I did this challenge last year and discovered some great new-to-me authors along the way, so I thought I'd do an official one this year. It's a little late, but since challenges are for fun, why not go for it?
The Challenge:
Read 20 or more books this year by authors you've never read before.
The Rules:
1. Post about the New (to you) Author Challenge on your blog.
2. Use the url from that post below in the MckLinky entry form at the bottom of this post so I know you're taking part in the challenge and can stop by :)
3. Take the Challenge button (code below) and display it in your challenge post and/or on your blog's sidebar.
4. On your blog, list the authors' names and titles of the books you read.
5. Discover some great new (to you) authors this year!!!!
6. (Optional) Rate and/or review the authors' work, letting other readers know what great discoveries you've made.
The challenge is retroactive, so the official dates are January 1, 2011 – December 31, 2011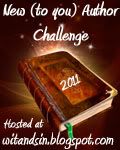 1. Author:
Title:
2. Author:
Title:
3. Author:
Title:
4. Author:
Title:
5. Author:
Title:
6. Author:
Title:
7. Author:
Title:
8. Author:
Title:
9. Author:
Title:
10. Author:
Title:
11. Author:
Title:
12. Author:
Title:
13. Author:
Title:
14. Author:
Title:
15. Author:
Title:
16. Author:
Title:
17. Author:
Title:
18. Author:
Title:
19. Author:
Title:
20. Author:
Title: